Until recently, we've been using an LG X110 Atom-based netbook, among other things, for some on-the-go iPhone development, and since that quickly proved excruciatingly slow and mind-bogglingly unproductive, we have been looking for a suitable replacement for quite a while. There were several catches, though: it had to be light, it had to be thin, it had to run Windows well (yes, that's what we primarily develop on, more on that in another post), and it had to be reasonably priced. And, of course, it couldn't be Atom-based. Until recently, there were only two products that loosely fit this category.
One of them was Sony's Z-Series laptop. It has very impressive specifications, very light weight (1.38kg), runs Windows… and that's about it. In our view, it's not very pretty from any other angle than the top (although we can live with that), but more importantly, it's a whole $2,000. While its price may be justified by the hardware, it's just too much for us to spend, although at one point we almost bought it. And, of course, besides the price there's always the fact that Sony is evil.
The next contender was the refreshed 13″ MacBook Air. Beautifully crafted, light-weight, well-priced, runs Windows with Boot Camp, features a good graphics card – it seemed like a perfect fit for us. Sure, its Core 2 Duo CPU is a little underwhelming, but it should be good enough for mobile development, especially compared to an Atom. However, there's just one deal-breaker. On its keyboard, the Fn and Ctrl keys are swapped in a typical Mac fashion – and there is absolutely no way on this planet to change that mapping in Windows. To most people, this would be a meaningless trifle – but for programming, Ctrl is one of the most often used keys, and inability to remap it means that you have to awkwardly use your ring finger to press it while trying to hit another key (C, V, or G, for example) with the same hand at the same time. After years of using your pinkie for Ctrl instead, this sounds a lot easier than it actually is to do. And so, with much regret, the MacBook Air was also disqualified.
We were left with nothing. It seemed incredible that of all laptop manufacturers on this planet, not a single one has managed to make a Windows-based competitor to the MacBook Air. Until, of course, one February day came our knight in shining armor – the Samsung Series 9 laptop. Being in Canada, we seem to be treated as a third-world country that speaks a totally different, niche language by Samsung – at the moment of writing, this notebook is not sold in Canada, and we have heard no announcement regarding when or if that might happen. We managed to get one of the early models while it was briefly in stock at B&H.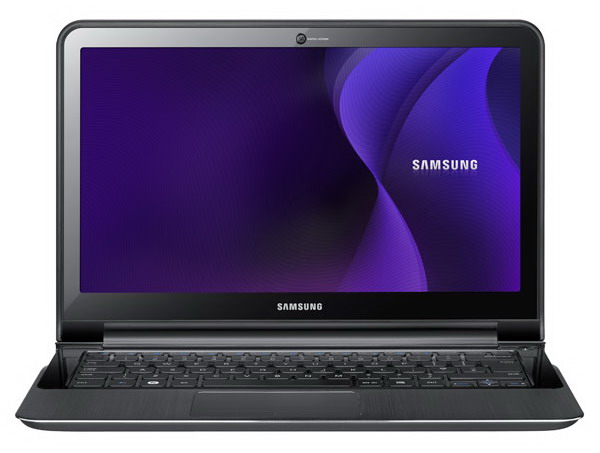 Surprisingly, it arrived quickly and with no problems or excessive duties and customs fees charged to us. When you open the box, the first thing you notice is just how black it is. Everything about it is black – the box it comes in, the outside, the inside, the display bezel – it is total, complete blackness. And we really like it – it even looks a little ominous, in a good way, when placed next to the MacBook Air, almost like its evil twin. At its thickest point it's slightly thinner than the Air, although overall, visually it seems a bit thicker, primarily because unlike the Air, it doesn't taper in towards the edge. The next thing you notice is how little it weighs – when you pick it up, it seems unnaturally light for its width and depth.
Performance-wise, it's also a very good machine. While other sites, such as Engadget, have already benchmarked it, we just ran some seat-of-the-pants tests on it, and in compiling our code or running other fairly intensive software it felt very fast. In part this is the case because of the machine's 128Gb SSD drive. The laptop also has a very good keyboard – its full-sized keys, such as relief after cramped 10″ netbooks' keyboards, are rubbery and pleasant to the touch, with good travel distances. They are also back-lit, unlike the Air's keys.
So, the good news are that it's light, thin, beautiful, reasonably priced, and runs Windows. And the bad? It's the software experience. You see, when you purchase a new Mac and power it up for the first time, you're presented with a nice Mac OS X animation, then asked for a couple of details to setup your account, and that's it, you're done, you're ready to go. Not so with Samsung. To be fair, this is not their fault – it's mostly the way Microsoft designed Windows. It still, however, taints the overall experience. When you first start Series 9, it takes about four minutes to install some extra Samsung software and several other Windows components, which makes us question why this wasn't done at the factory. Then, if you're a sane person, you look for any Windows security updates that came out recently and install those. For us, that process took a number of iterations and about an hour and a half in total – not because the notebook was slow, but because there were so many updates to install. Then, you need to reconfigure Windows itself, since it defaults to what are some seriously inconvenient settings for us. These are little details such as automatically hiding file extensions and system folders, not having the Task Manager start up minimized by default (and hiding the icon later), not having the Show Desktop button on the task bar (yes, we know, it's in the far bottom-right corner of the screen – the least convenient place one could possibly put it in), and other little annoyances like that. Taken together, there goes another thirty to forty minutes. This is also not the case on a Mac.
Finally, there's a matter of some Samsung software. While most of it is good and there's little bloatware (though Norton and some Wild Tangent games are, traditionally, there), there's Fast Start. On the surface, it sounds good – the idea is to wake the notebook in 3 seconds after you open the lid. And it works. Unfortunately, the side effect is that if, after you're done working, you close the lid and walk away, and try to use the notebook the next morning, you will find that its battery is completely drained. This seems like a very silly design decision – on a Mac, you don't have to worry about these things, you just close the lid, and walk away. Sure, it drains some battery over long periods, but nowhere near 100% overnight. Moreover, changing this took a while to figure out, because as long as Fast Start is active, the Hibernate options in Windows are mysteriously disabled – but with no indication as to why that is so, which is very annoying. It only after all this, once you have set everything up, that Windows 7 and this notebook become a pleasure to use.
And so, overall, this comes down to an often traditional impressions of Windows notebooks. In this case, Samsung Series 9 is a stunning piece of hardware, beautifully designed and engineered, quite powerful, light, and reasonably priced. However, the overall experience is decidedly Windows-like: after first powering it up, you will need to spend at least two to three hours configuring Windows before you can actually use it the way you like. This is mostly not Samsung's fault, but it heavily impacts the very thing that made Apple so successful – the laser-like focus on overall user experience, not just building good hardware. While ultimately for us this doesn't matter that much – it's a one-time step, and we're developers, so we can handle it, for an average consumer this might create a very unpleasant first impression, and as we all know, first impressions can determine the success or failure of a product in many cases. Overall, though, we would highly recommend this notebook – despite some flaws with its Windows setup experience, it is a brilliant piece of design and engineering that is hard not to love.